Brazil's Favorite Beaches

Many travelers to Brazil will tell you to go to Florianopolis and list it as one of their favorite places in the country. It is not hard to see why. With 42 beaches to explore, all within an hour's drive, Florianopolis is paradise.
More >>
---
Exploring Rio de Janeiro on a Budget
Although Brazil is undoubtedly now one of South America's most expensive destinations it is still possible to travel on a budget. Rio de Janeiro is one of the country's highlights for many travelers. As long as you follow a few simple rules you can have a good time without breaking the bank.
More >>
---
Medellin Holiday Light Extraviganza
If you are looking for an exciting holiday destination, consider Medellin, Colombia and its spectacular holiday light extravaganza. This Andean city has dazzled audiences for decades with its colorful Christmas displays - among the world's most impressive.
More >>
---
Touring Rio de Janeiro's Favelas

Most tourists only ever see one side of Rio. They will visit the famous sites such as the Christ the Redeemer statue and Pao de Acucar (Sugar Loaf Mountain), Ipanema and Copacabana beaches. But in order to really experience the country there is only one way - visit a favela (slum).
More >>
---
Tango Lessons in Buenos Aires

Tango tourism is big in Buenos Aires. Go to certain milongas (tango dances) and you will see numerous tourists dancing among the locals. These tourists often start dancing in their own countries, become hooked and then travel to Buenos Aires with the specific purpose of perfecting the dance. And there are many people here willing to help them.
More >>
---
Buenos Aires Milongas - Tango for Travelers

When travelers come to Buenos Aires they are often seduced before they arrive with images of tango dancers enveloped in each other's arms in dark smoky halls. The reality is often far different. The most contact most travelers will have with tango in the city is couples dancing in scuffed shoes in the cobblestone streets before passing around a hat or a made-for-tourists tango show with prices to match.
More >>
---
Medellin's Flower Festival

Medellin's colorful Flower Festival (Feria de Flores), is a vibrant, eight-day celebration held every August featuring an equestrian extravaganza, treasured antique cars, dozens of shows, and all topped by an unparalleled flower parade.
More >>
---
Cartagena, Colombia

Landing in Cartagena, Colombia's Rafael Núñez International Airport, roughly three hours from Miami is a great place to begin to discover Colombia - just don't tell anybody! Although cruise ships now call during the season and travelers are beginning to arrive, this little gem is only on the verge of being discovered.
More >>
---
Fortaleza and Coastal Ceara

Fortaleza, a city of two and a half million now, is growing rapidly but still retains a beach resort atmosphere, and accommodations are available for prices which seem inexpensive due to the dollar's strong presence at the moment.
More >>
---
São Luis - Eco-Tourism at Its Best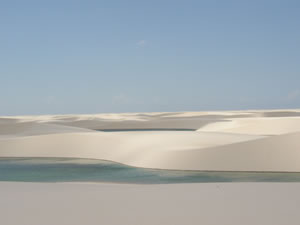 I paused when the short path from the shack we had driven to suddenly veered straight up. The white sand trail cut into deep green vegetation growing on a dune was as steep a trail as I had ever attempted, and all I could see beyond it was the cerulean sky.
More >>
---
Nicaragua Tourism News

Central America's best-kept tourism secret is about to be revealed and it is located just over two hours by air from Miami. Nicaragua, straddling Central America, with both Atlantic and Pacific beaches and everything a traveler could want in between, is poised to become the country that does Latin American tourism well.
More >>
---
Medellin -- In Full Bloom Once Again!

On my Colombia visit I must have heard that word a dozen times, and there was no mistaking it; for transformación is virtually the same in Spanish. I was in Medellin, the mega metropolis now Colombia's second largest city with a population nearing three million.
More >>
---
Discover Northern Brazil

If you're looking for tropical breezes and beaches in a weather friendly location like the Caribbean but without hurricanes, there's a secret destination known to Europeans for years but just being discovered by Americans - northern Brazil.
More >>
---
After the Harvest in Mendoza

Mendoza, Argentina's prime wine producing area, in late autumn is beautiful. The air is crisp, the leaves are changing, the harvest is over and the wineries, as always, are happy to provide tours and tastings to visitors.
More >>
---
Peru's Sacred Valley of the Incas

As we approached Cusco, Peru, on a recent early morning AeroContinente flight from Lima, it became clear that the Inca empire builder's choice of this area for their greatest palaces, temples and estates was a wise one.
More >>
---
Arequipa -- Convents, Canyons & Condors

Peru's second largest city, Arequipa, is first in many intriguing ways that include an extraordinary religious site, and nearby canyons that are the world's deepest.
---
Iquitos - Gateway to Amazonas

Life in Iquitos, Peru revolves around the Amazon River. There are no roads leading to the city - an international airport and the muddy waters of the Amazon are the only ways in and out.
More >>
---
Amazon Odyssey 2003

Amazon is high on the list of the world's most picturesque words. It also carries a mother lode of trivia. It probably was named by Don Francisco de Orellana, the first Spaniard to lead an expedition into this vast area.
More >>
---
Backpacking the Amazon

This historic, riverfront city of 1,403,000 and capital of Brazil's 67,857 sq. mile Amazonas State, stands upon the northern bank of the world's mightiest river. It is an ideal starting point to explore the Amazon River and the wilds of Amazonia.
More >>
---
The Falkland Islands Discovery Journey

Mention a trip to the Falkland Islands and the usual response is "Where are they?" or "Why?" This little gem of a country in the South Atlantic isn't a true Latin American travel destination, but has recently become a popular extension for visitors Torres del Paine...
More >>
---
Ecuador's Galapagos

Very few destinations offer so much for today's adventurous traveler as the Galapagos Islands. Travel brochures describe a natural paradise teeming with both marine and land animals that have no fear of humans and which may be observed in their natural habitat.
More >>
---
Bolivia Today

Bolivia is a virtual Shangri-la, land-locked in the heartland of South America. It's attempts to attract attention to its many points of interest, have been limited.
More >>
---
Geology of Southern Chile

For the past hundred million years or so the thick continental tectonic plate of South America has been driven westwards a few millimetres a year, colliding with the thinner Nazca oceanic plate driving eastwards.
More >>
---
Skorpios' Cuisine

Guests are seated at the same table for every meal, enabling tablemates to get to know each other well and form lasting friendships. Waiters tend the same tables each meal and soon begin to anticipate passenger's wishes.
More >>
---
Chile's Northern Patagonia

Patagonia, the vast territory at the tip of South America, is a perfect destination for those seeking a unique travel experience and cruising its waters is the best way to explore this remote area.
More >>
---
Brasilia: Tomorrow's City Today

When I learned I'd be visiting Brasilia I wasn't sure what to expect. Would the futuristic federal capital, completed in 1960 in the "middle of nowhere," live up to its designers' visions of the perfect city in which to live, work and play, or would it now be more like yesterday's Tomorrowland?
More >>
---
Gateway to Amazonia The Port of Manaus

When someone mentions Manaus, thoughts of an opera house in a sleepy backwater town 1,000 miles up the Amazon River come to mind. The stately Teatro Amazonas (Opera House) hails from the days when rubber plantations sustained the local economy of Manaus.
More >>
---