Region by Region
Nicaragua's great natural beauty provides the country's major attractions with towering volcanoes, Central America's largest lakes, and two coastlines on the Pacific and Caribbean. Major visitor destinations are: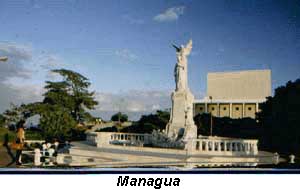 Managua: Sightseeing in Managua is highlighted by Managua's National Museum at Colonia Dambach which features a fascinating, in depth look at pre-Columbian Nicaragua. Managua's National Museum, the Ruben Darío Theater, and Commandante Edgard Lang Sacasa Zoo are also major visitor attractions. Nightlife is highlighted by casino action and often lively nightclubs and discos.
Excursions from Managua:
Masaya National Park: This, the most popular tour from Managua, takes the visitor on a dizzy ascent through massive lava flows to the great, steaming Masaya crater (590 ft. deep and 1,870 ft. in diameter). Best viewpoint is above Boca del Infierno (The Mouth of Hell) where the volcano's interior temperature has been measured at 1,800°F. Also popular is the "sugar & rum" tour to an outlying sugar mill and distillery.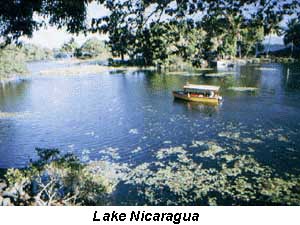 Lake Nicaragua and Granada: Another popular excursion is the full-day trip to historic Granada on the shores of Lake Nicaragua. The town dates to 1524 and is a colonial gem. Lake Nicaragua itself is fascinating, for here is the home of fresh water shark measuring up to 10 feet, as well as mystery islands with ancient megalithic ruins. A total of 323 small islands dot the lake. Ometepe is the largest and has several mysterious monoliths.
Geothermal Power: One of Nicaragua's most unique full-day excursions is a combination trek & tour of Momotombo Volcano and its space-age geothermal plant. Located 30 mi. from Managua the Momotombo trip includes trekking past volcanic "wells" (hissing steam collection stations) and a visit to the huge twin turbines and computerized control room. Then one's 4x4 vehicle climbs beyond the plant to a trekking area on the upper volcano slopes of the Momotombo National Reserve. Here birding is excellent in the lush cloud forest that instead of smoke, receives moisture from the nearby plant's giant funnels. Here one learns that like solar and hydroelectric power, volcanoes are a viable, clean energy option for the future.
León: The Old World city of León with its colonial churches and nearby León Viejo, Nicaragua's original capital, is also a popular tour from Managua.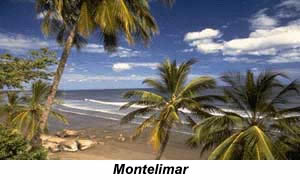 Montelimar: The Montelimar resort on the coast west of Managua (an easy 41 mi. drive from Managua) is Central America's largest oceanfront tourism complex with over 200 bungalow accommodations and a beautiful, wide, seemingly endless, palm studded beach. THe complex is now a Barcelo all-inclusive resort. Here water sports include: wind surfing, body surfing, horseback riding and tennis.
Corn Islands: Located 55 mi. east of the country's 355 mi. Caribbean coastline lie the tiny, idyllic, English-speaking Corn Islands. On Great Corn small hotels and a dive shop cater to adventurous visitors. From here dive boats offer day-trips across the seven-mile channel to Little Corn Island, which is as close to an untouched isle as there is left in the Caribbean. Also a line of small cayes (that seldom appear on maps) trail away from Little Corn. Diving here is exceptional.
Selva Negra: Deep within pine mountains, two hours from Managua, and just beyond the city of Matagalpa, is the popular Selva Negra (Black Forest) retreat featuring rustic cabins, hiking trails, wild orchids, and exotic bird viewing.
Pacific Surfing: Unique "surf safaris" are offered from Managua that provide surfers with a 4x4 vehicle and "Surf Info Kits" that give driving instructions and odometer readings to the best surf spots on the Pacific coast.
Mombacho Volcano Natural Reserve: Easy forty-five minute trek takes one to the top of a cloud forest for a spectacular view of Lake Nicaragua, Granada and surrouondings. A new bench/bus ride up in an old Sandasnista Russian army truck ia an adventure in itself. Cost US$5.
Canopy Tour: Visitors may now experience exciting canopy rides via cable wire. One literally flies across the treetops in a secure harness enjoying a breathtaking view of bromeliads and orchids atop trowering cloud forest trees.
Leon Viejo Now a protected historical site the ruins of Leon Viejo (Old Leon) are a fascinating stop alongside the shores of Lake Nicaragua. Founded in 1524 the historic city was nearly demolished by Momotombo's eruption in 1610. Today visitors may inspect the ruins of Leo Viejo's cathedral, convent and the site where looted gold was melted for trans-shipment to Spain.
El Chocollero: In the heart of the Masaya foothills oen will encounter Nicaragua's best bird watching. Here in a tropical setting complete with two waterfalls one will spot tucans, trogons, doves, hawks, wood creepers, manakins, mot-mots plus a colony of noisey howler monkeys.