If you are looking for an exciting holiday destination, consider Medellin, Colombia and its spectacular holiday light extravaganza. This Andean city has dazzled audiences for decades with its colorful Christmas displays - among the world's most impressive.
Just as they have with their famed Annual Flower Festival, Medellin has taken on all challengers in the global quest to become the supreme holiday destination. The Paisas, as Medellin & surrounding area residents are known, decorate the entire city in resplendent lights that will put a smile on the hardiest scrooge. Parks are aglow with festive displays, malls filled with carolers, and trees hang heavy with glowing ornaments - and incredibly, the year-round Paisa smile becomes even more beckoning.
But it is the massive lighting of the city's Medellin River, and adjoining displays, in a trail leading up mount Nutibarra that puts Medellin in a class of its own - making it a worthy travel destination. Arturo Tapia of MedellinTraveler.com explained that this season's theme was "Water," and they exceeded anyone's expectations. Huge sections of the Medellin River were covered in a network of pipes with fountains stretching the full width of the river, each with its own collecting canvas underneath to give shape and form - and to re-circulate water in the eco-friendly city.
The pipes stretched as far as the eye could see, and their fountains changed colors, shapes, and intervals to the amazement of onlookers who walked along the river.
Paisas strolled from one amazing display of color and light to another, and every few hundred feet, a "float" or display beckoned for a closer look at countless colorful artworks the size of large parade floats. Scenes ranged from the traditional manger setting, to Spanish Explorers on the high seas, to fanciful creations that defied labeling.
This path was also lined with food vendors and entertainers, but the most entertainment came from watching the water fountains magically appear above the Medellin River - and from watching the smiles on the faces of the friendly Paisas who proudly welcomed visitors to their incredible holiday show.
While walking, I enjoyed a mango cup with lemon, and I couldn't have just one - it was delicious. I also tried a succulent white taffy-like dessert that looked like an ice cream cone. The vendor stretched the candy in arm-length sections, like a baker flinging pizza dough. Amazingly, this tasty "gelatino" made from cow-hooves, is packed with vitamins, and is a relic of Medellin's rich bucolic past.
The path made a turn at a bridge in an area of fountains lit with bright colors, beckoning all who wished to dance in the cool evening water. Giggles and hackles were heard as both children and adults frolicked in this invigorating display.
Police then helped onlookers cross the highway to the final leg of this holiday journey - the climb up Mount Nutibara, which was lined with more amazing lights and figures. This short ascension was both exhausting and exhilarating, but once at the peak, Pueblito Paisa, a reproduction of Medellin's first settlement, was aglow in festive holiday lights. Here, exacting models of the region's first buildings, hundreds of years old, were decked out in holiday ornaments.
The coup de grace was the massive lighted Christmas tree that changed color several times a minute - overlooking the entire city and the holiday path we just climbed.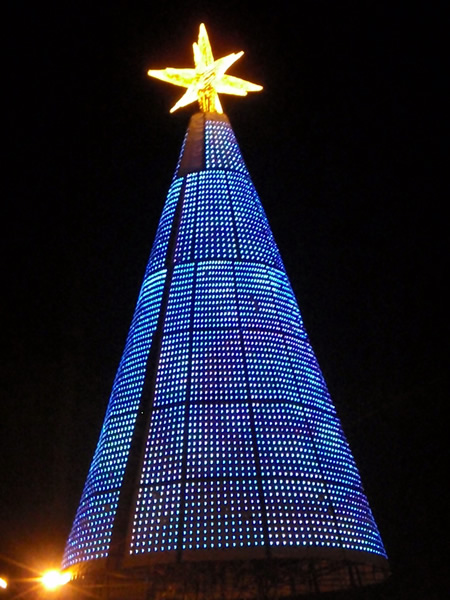 As I surveyed below, I could see the mountains surrounding the city in a beautiful bowl with holiday decorations everywhere, the multi-colored fountains with people laughing and yelling, and lights strung across the hillside slope with giant holiday figurines aglow.
The song White Christmas could also be heard, and it struck me as ironic - this city of eternal spring will never know a traditional white Christmas. As the sound of a Chiva, a brightly colored bus, bedecked in holiday lights, wound up the hill, it broke my trance. Medellin may be without a snowy white Christmas - but with the spectacle below and the magic of the Paisas - this amazing holiday spectacle made me forget ever wanting a white frozen Christmas. I've already made reservations for next year's trip.
~ Mike Trebilcock