Landing in Cartagena, Colombia's Rafael Núñez International Airport, roughly three hours from Miami is a great place to begin to discover Colombia - just don't tell anybody! Although cruise ships now call during the season and travelers are beginning to arrive, this little gem is only on the verge of being discovered. Hordes of tourists will probably soon overrun this beachfront, Caribbean destination, so visit now.
The approach over the clear water of the Caribbean gives way to the airport tucked in the Crespo section of the city, quite near the coast.
The ten-minute drive along the coast road to old town is one of the prettier airport drives I've encountered, and, as you approach the walls of the colonial city, visions of pirates, galleons and gold come to mind. This World Heritage Site has retained its charm - red tile roofs, narrow winding streets and flower-draped balconies have managed to escape the steel and glass architecture of modern Cartagena.
Cartagena is a world-class city with major hotel chains, malls and impressive condo blocks facing the Caribbean but it's the historic district that sets it apart.
Old Town, or Centro, is a walker's paradise once you master the art of dodging traffic during the day. There are very few traffic signs and signals, but somehow it seems to work.
Early mornings provide a time to strike out and see the city awaken before cars take to the road. The morning light on the colorful colonial buildings is a photographer's dream and, because tropical Cartagena is hot and humid year 'round, it's a pleasant time to be out. A point and shoot camera is all it takes to capture the hues of this photogenic city.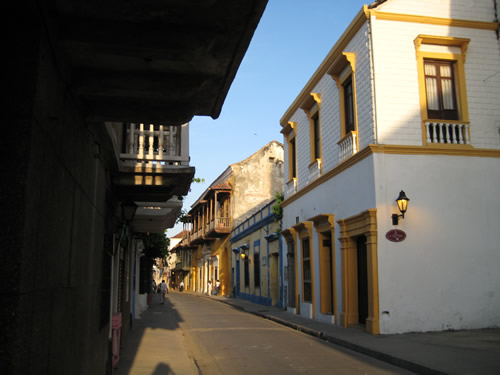 There's plenty to see and do as you wander throughout the day - churches, the cathedral, plazas, museums and galleries. There are plenty of cafes to have a cup of Colombian coffee or an ice-cold regional beer. Red wine is served chilled -- wine storage in this climate is difficult because of the heat -- and makes for a pleasant afternoon break.
History of the city, founded in 1533, is everywhere. Fort San Filipe provides a glimpse of the necessity of city fortifications in the days of pirates and plunder, as do the remaining city walls and bastions. The city is especially well-lighted at night and the city shines.
The Museum of the Inquisition has chilling displays of torture devices used to defend the faith of Spain. The Museum of Modern Art is housed in a historic brick structure that provides sharp contrast to the impressive collection of modern Colombian art. There are many shopping opportunities, including the region's famed emerald factories and showrooms. However, let the buyer beware.
Atop the highest point in the city, La Popa, fabulous views of the city abound from a former convent built in 1607 by the Augustine monks.
Taxis within the historic part of the city are 5,000 pesos (US$2.50) and, because of the maze of one-way streets, offer a city tour every time you jump in. A trip that might be three blocks as the crow flies can take you outside the city walls, along the coast, through a gate in the ramparts and up and down a number of picturesque streets. Make sure the taxi is air-conditioned and you'll have a little respite from the heat while enjoying the surroundings.
Cartagena boasts a modern convention center near the historic center and is emerging as a convenient and safe convention destination for North American meetings. Shuttle service and taxis make access easy and the walk from many hotels is less than ten minutes.
Boutique hotels within walking distance of historic sites and the convention center are the accommodation of choice. Historic homes have been or are being converted into all manner of bed and breakfast establishments, each with its own personality. Some have eclectic/artistic furnishings, some are more traditional and many are simply comfortable, clean, family-operated inns. Most have quiet room air-conditioners, in-room bathrooms and friendly staff. Breakfast is usually included.
My hotel, Casa La Fe,opposite Parque Fernandez Madrid, also offered free high-speed wireless access throughout the hotel, and Tom, the resident cat, who often followed me up to my room to visit.
British owner Geoffrey Chew arranged an excellent half-day city tour in an air-conditioned private car with a very knowledgeable English-speaking guide for a friend and me for US$45 PP. The staff there also arranged a walking tour for a young couple I met while staying there and, as most hotels in small towns within big cities, have an array of contacts to point you toward a restaurant, tour or guide that's right for you.
There aren't many elevators in boutique hotels, or Cartagena in general for that matter, which is something to consider when planning a trip. It is flatter than many colonial cities so walking around town is easy, but people who struggle with stairs should be forewarned.
Walking is especially pleasant at night and even though people caution you not to walk at night in Colombia, walking in Cartagena's old town seems safe as anywhere. When you head out after a late afternoon siesta the street vendors are closing up and traffic is settling down. It's quieter and a little cooler as you wander the streets in search of a drink or dinner.
Although Aguardiente, a licorice flavored liqueur, is the typical aperitif elsewhere in Colombia, a cold beer or mohito seems right for the steamy climate. Seafood headlines menus and event buffets, yet house specialties are unusual and delicious. Restaurant Santisimo, around the corner from Casa La Fe, offers a tender beef filet rolled in Colombian coffee and pepper and then roasted - just one of many restaurants where the food is as delightful as the ambiance.
Fruits everywhere, breakfast, lunch and dinner, were local and fresh. Street vendors sell cut fresh fruit, lemonade and a local specialty -- lemonade with coconut milk that is tall and cool.
After dinner the city changes drastically. Sightseeing horse and carriages clip-clop through streets that are so clean after the vendors leave that it seems like the city was vacuumed while you ate. The artistic lighting adds a romantic glow.
If conventioning, the evening events will be beginning. There might be a reception in a five-star hotel that was formerly a convent, a Grammy winning rock singer headlining a party on the ramparts, a huge party in the blocked-off clock tower square or a gala bash on the top of San Filipe fort.
"Colombia es Passion" is one of the country's popular marketing campaigns but Colombia offers so much more and Cartagena is a colorful and vibrant place to begin exploring. A visit to this safe and friendly city should make any traveler anxious to return to this country with coasts on two oceans and a history that shaped the Americas.
~ Jane Townsend