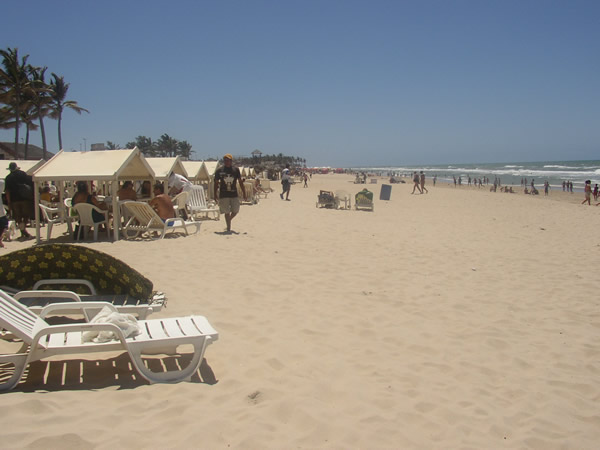 Fortaleza, a city of two and a half million now, is growing rapidly but still retains a beach resort atmosphere, and accommodations are available for prices which seem inexpensive due to the dollar's strong presence at the moment. We stayed in the elegant Caesar Park Hotel where the bellboys wear dark, long-sleeved, high-necked uniforms and white gloves as if they were in Europe, but where the breakfast with its exotic, unheard-of fruits and juices and tapioca pancake stations reminded us that Europe was far away.

Even the weather here was accommodating because in spite of its proximity to the equator, the state is so dry (300 days of sunshine a year), and the breezes from the ocean so regular, that we barely noticed the heat. It's good to know that it isn't likely to rain on your vacation. If you do get hot and crave ice cream, there is a store selling fifty flavors including cashew, tapioca, green corn, and just about every tropical fruit from the area, most we didn't recognize in spite of being from South Florida.
There are wild beaches still to be found, such as the much celebrated Jericoacoara, an eco-friendly destination seven hours out of Fortaleza in a federally preserved area. This beach is devoid of luxury except for the stark beauty of its dunes and rock formations and was reported by Washington Post Magazine to be one of the ten most beautiful beaches in the world. But even this beach, as well as most others along the coast, can be comfortable for those used to comfort. Most of the pensions come with complete bar and meal service, air-conditioned rooms, hot running water and dune buggy rentals.
Dunes are the highlights of the beaches in Ceará, and to truly appreciate them, a dune buggy ride is essential. In Jericoacoara, several lagoons were clear and warm enough to invite you in for a swim reminding visitors that we were actually not in the Sahara. Especially when a waiter emerged from a shack to offer grilled lobster or garlic shrimp.
For a cheap thrill (around a dollar for the board rental) you can try sand surfing where you can slide down a steep dune. Warning: There's only one way to get back up the dune - climb back up. Most places sent down a rope for us to hold on to. If you're young enough or crazy enough or both, you can try leaping from the edges of steep dunes. The dune will eventually stop your fall, and your feet will sink far enough into the sand to keep you from rolling, but the damage will have been done to your heart.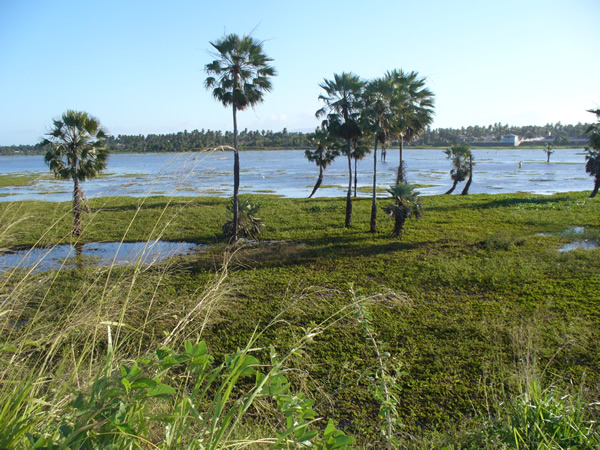 Closer in to the north of Fortaleza is the beach of Cumbuco. Dune buggy drivers there offer a ride "with or without emotion." We chose "with emotion," even though the emotion they were talking about was excitement. In spite of the roller coaster ride up and down some pretty steep dunes, we were taken far enough into the dunes for breathtaking moments when we saw nothing but sand undulating around us as if we were in the middle of the Sahara. In Cumbuco you will be able to see a jaganda , the traditional fishing boat, still used as they were for hundreds of years still coming in with the day's catch. This visitor saw what looked like a 100-pound snapper, and we watched the locals bargain for their dinner. For a modest price ($10), we bargained too -- for the fishermen to take us out to the ocean in the jaganda, just to try it. Another warning: You have to be somewhat brave because the jagandas have no sides. They're just basically rafts with sails that surf on the waves on the way back. Whew!
To the south of Fortaleza, is Porto das Dunas where Beach Park, a lovely beach dotted with carnauba palm chickees for its visitors, also sports a water slide park as good as any in the United States. It was at this beach that we ordered a bowl full of crabs along with our coconut milk, and it's an experience I recommend you don't miss. The bowl of crabs comes with a mallet for each person, and you crack them on the wooden tables. Delicious as well as messy, but you can wash off in the ocean.
Farther south we visited Caponga where the dunes were covered with patches of vegetation that not even dune buggies could tackle, so we rented horses from one of the many hotels in the area, and stumbled into a marvelous sight from the past: A fisherman's village where the houses were made completely of palm thatch standing dark against the pure white sand. We continued on to Morro Branco where the pumpkin and rust-colored dunes were a sight to behold. Canoa Quebrada (Broken Canoe Beach) is down farther, and locals love the place. Every night there is entertainment and Brazilian tourists roaming around. If you want to keep exploring, you can try Ponta Grossa. It's a beach that doesn't even exist during part of the day. It's not easy to get there from Canoa Quebrada, but for the adventurous and enterprising traveler with an ability to rent a dune buggy, the vision of this almost-deserted beach after 40 kilometers of shoreline is worth it.
If you like to get away from the twenty-first century and go to places that haven't been altered much by the onslaught of concrete, cars and technology when you travel, you can venture from Fortaleza to the state's interior. If you saw the movie Central Station and were fascinated by the primitive northeast depicted in it, you'll have to travel deep into the interior where life, in many ways, is not much different than it was 100 years ago. Most hotels in Fortaleza will find rental cars, tour guides, and just about anything that's requested. We rented a van for our party of five at $270 for a four-day trip, complete with a driver who freed us of the responsibility of finding our way and driving through holes. Holes dotted the highways away from the city, and the deeper we went, the more holes there were until eventually, tar roads gave way to paving of granite chunks haphazardly pounded into the dirt, and finally to just plain yellow dirt as we approached what was the truly the third world.
We thankfully left traffic behind too, and the dirt roads in the many small towns we passed through were often empty except for a few pigs and tired dogs reclining for their daily siesta. At one point, a herd of cows forced us to slow down to a crawl while they made their way around our van. The herd was followed by a rare sight: An authentic northeastern cowboy, a vanishing breed, dressed in his rounded leather hat trotting after the cattle. Our driver grabbed a camera and snapped one of our favorite photos of the trip: His own image on the side mirror photographing the man on his mule, the two worlds in one.
We stopped at a farm near a small, unpaved town named Livramento. The farmhouse was indeed like it might have been a hundred years ago with no ceiling, a fire-burning stove built of brick, and drinking water taken from a well and placed in large clay pots in the kitchen. Coffee was filtered through a large piece of cloth that was twisted on both ends. No cappuccino makers here. Most dwellers on the farm still slept in hammocks as was the tradition in this part of the country, learned hundreds of years ago from the native Tabajaras, and other tribes.
At the Ibiapaba hills, a lush, tropical area, quite different from the parched land below, we attempted a visit to a still that made the traditional liquor, caxaça, operating high up on a sugar cane farm. The caxaça from this area is reputed to be among the best, made out of the local sugar cane and aged in large oak barrels as it had been done throughout memory. To get there we had to pass through Poranga, a town we caught in the middle of a wedding that we decided to attend inside a crowded church. We politely refrained from crashing the reception consisting of sitting around drinking soda and beer under a piece of canvas in the town square. As archaic as this little town seemed to be, TV antennas protruded from every moldy tiled roof. Incredibly, so did some satellite dishes, and I could feel the twenty-first century gaining on me as I attempted to escape it.
In Poranga, we had to hire yet another driver and a sturdy 4 X 4 that was capable of tackling the narrow, sandy dirt road to the second farm we were visiting. Our van couldn't handle it. We bounced all the way up, and when the truck finally stopped, we thought we had arrived. No, our new hired driver told us, it's just that he couldn't go any farther, and we would have to walk the rest of the way. He pointed to a narrow trail.
"I'll stay here," he told us, "I can't go with you. I have a weak heart." Quite a funny comment in a terrifying sort of way, but we courageously continued through a rocky trail that only surefooted animals and people used, while an increasingly lush jungle seemed to close in around us. Sometimes, the brush would open up, and we were treated to peaceful views of the blue valley below. As the mango, pau d'arco, cashew, and other tropical trees made way for sugar cane as we got closer to the farm, I felt that I finally had escaped every trapping of the modern world as I walked up to this remote farm in a place where time had no choice but to stand still.
Almost. The old farm house -- built by hand, impossible to reach by anything with a motor, an hour away from even the smallest of towns -- was proudly capped by a gigantic satellite dish. The proprietor, 86-year-old Jose Ribamar Mourão, had once built a road all the way to the farm, and had electricity brought up -- and a satellite dish, before the road was washed away. He made his caxaça the way his grandfather had, but in the evenings, he watched the news from São Paulo on his color TV.
So much for escaping the twenty-first century. I was, nonetheless, grateful for a glimpse into a less noisy and polluted time, before it is lost altogether, which it will surely be sooner than we can clink our champagne flutes at the next New Year's Eve party.
~ Marta Magellan, Latin Travel contributor