Central America's best-kept tourism secret is about to be revealed and it is located just over two hours by air from Miami.
Nicaragua, straddling Central America, with both Atlantic and Pacific beaches and everything a traveler could want in between, is poised to become the country that does Latin American tourism well.
Travelers will find colonial cities, world-class museums, beach resorts, eco-tourism destinations, volcanoes, bird watching, trekking, all water sports and so much more!
An active and enthusiastic Nicaraguan tourism community is hard at work promoting tourism as well as foreign investment and development in an eco-sensitive manner. Backed by a tourism-friendly government and a population that welcomes visitors, Nicaragua is waiting to be discovered.
The country is trying to shake a negative image some travelers still associate with Nicaragua. Tourism destinations are now safe, the people are welcoming and the country is beautiful.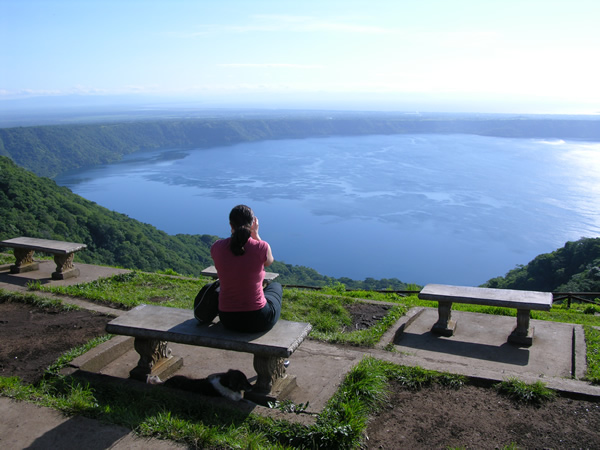 Many projects promoting tourism to Nicaragua are underway including a proposed golf resort on the Pacific coast, an hour from Managua. Also, the development of new communities is attracting US retirees who can live comfortably on social security in a home with a view. There are many plans for road maintenance which will make getting around more comfortable. Dollars are accepted everywhere and ATMs give a choice of withdrawing dollars or Nicaraguan cordobas.
Perhaps the most interesting project encountered on a recent trip to Nicaragua was the quest for a national drink.
In summer of 2006 the tourism industry held nationwide contests for the best original rum drink recipe. Nicaragua's oldest and most respected rum producer, Flor de Caña, sponsored it and a group of international judges tasted the 120 preliminary entries over a series of evenings leading up to the finals.
LatinTravel's Jim Woodman was invited to participate in judging the 20 final winning drinks and was awed by the creative use of native fruits and the broad range of flavors the contest brought forth. "What I like most of the new national drink is it allows one to take an authentic piece of Nicaragua home. We brought back two bottles of Flor de Caña, and have especially enjoyed the new drink while reminiscing about our last great trip to the Great Lake," he reported.
After sipping the numerous offerings at the finals, the judges settled on a fruity concoction developed by Dr. Edmundo Miranda, a pediatrician from the city of Granada on Lake Nicaragua, and named it El Macuá, after a tropical bird found in Central America.
René Hauser, the owner of a popular French restaurant in Managua and one of the judges in the competition said, "We wanted something authentic, something that goes down your throat and tastes Nicaraguan."
The drink is one-part white rum, one part guava juice, with a half-portion of lemon juice some simple syrup and ice.
If all goes according to plan, El Macuá will soon be known worldwide as Nicaragua's national thirst quencher, as closely tied to Nicaragua, as the caipirinha is to Brazil and the pisco sour to Peru.

~ Jane Townsend (2006)